While I was on holiday a couple of big names passed away. One was Cyd Charise, but I'd never try to pass myself off as qualified to write about her: I did enjoy Jaime Weinman's commentary though, with some great YouTube clips, here.
Special effects artist Stan Winston, however, has his fingerprints all over the post-seventies Hollywood that I find so interesting. The market for special effects is so big now that nobody can really stamp their name on it the way old-school artists like Willis O'Brien or Ray Harryhausen did, but Winston was as close as we had to that kind of iconic effects artist in the past few decades. He was also the last of a breed, in that he was a master of physical creature effects – achieved through make-up, puppetry, robotics, and the like – in an age where such creatures are increasingly being done by computer. His career paralleled another great effects artist, Rick Baker, but where Baker was probably best known for make-up effects (as with his work on all those films where Eddie Murphy plays multiple characters) and had a sideline in creature work, Winston's emphasis was the other way round.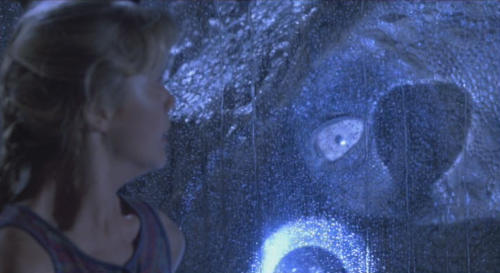 Despite this "old-school" emphasis, Winston wasn't a luddite; his effects frequently (even usually) co-existed with other kinds of effects, and he was co-founder of the effects studio Digital Domain, which (as the name implies) specialised in digital work. Many of the works in his later filmography are textbook examples of the flawless integration of physical and digital effects: perhaps the best example is the T-Rex scene in Jurassic Park, which seamlessly combines a digital T-Rex with physical effects by Winston.
Such a combination works very well, because each technology does what it's best at. Generally speaking, physical effects can't make a full-bodied, non-humanoid creatures that can walk convincingly in a full frame shot (although there have been some heroic attempts, like the Landstriders in The Dark Crystal). Computer effects (and before that, stop-motion animation) are needed to get that sort of effect. What physical effects are good for are close-up partial body shots, and for getting some genuine interaction between the creature and actor. Physical effects tend to look more tangibly present in the same space as the actor for the simple reason that they actually are: a really exact match of lighting and cinematography can be achieved with CG effects (and again, the T-Rex scene in Jurassic Park is a great example), but it's much harder. And physical effects certainly encourage performances that better "sell" the effects.
As Steven Spielberg puts it in his tribute to Winston at Ain't It Cool:
It's so much harder getting performances from actors when the principal nemeses are two grips holding 15-foot poles with Day Glo tape at different intervals. Joey Mazzello and Ariana Richards were crazy scared on JURASSIC PARK when Stan's T-Rex lowered his softball-sized eye right into the window of their Ford Explorer to scope them out. These moments were multiplied and divided amongst the cast, who had to act with a life-sized Triceratops, Brachiosaurus, Dilophosaurus, and two Velociraptors, that could even fog up a window with one powerful snort.

This was Stan's reality. This was Stan's art. The next time an actor has to act scared when he or she only has a wooden T-Bar to track, they will ask, along with the rest of us, "Hey, where's Stan Winston?"
Such praise of physical effects might seem a little ironic coming from Spielberg right after the CG-fest of Indiana Jones & the Kingdom of the Crystal Skull, but it's a common sentiment at the moment. The proliferation of badly done computer effects has led to something of a backlash against them that's very noticeable in reviews (and again, the new Indiana Jones has become something of a lightning rod for this kind of comment).
This is just because there's so many such effects shots being done on tight (read: rushed) schedules, and because too many films rely on CG imagery alone. When only one technique is used, the audiences' eye starts to pick the illusion: if it's all physical (not a common option at the moment) then they are likely to become aware of the stiffness of the creature, or the fact that its whole body is never shown. With CG they are likely to start to register subtle problems with lighting and texture, which give that almost subconscious sense that the creature isn't really "there." Blending effects can hopefully achieve the best of both worlds, which is why Winston's comfort with working across methods was so crucial.
Indeed, Winston's best work defied the old maxim that a monster in a movie should be shown as little as possible: the "it's scarier if you don't see it" fallacy. I still see this idea thoughtlessly bandied around, but when applied as a broad maxim it's nonsense. It had some truth when monsters in movies were men with rubber heads and became laughable the moment they were revealed; and showing a creature only fleetingly, or holding it until the end, continues to be an option to help avoid the illusion "breaking." There are also all sorts of suspense effects that happen to rely on not showing the monster, such as POV shots from the monster's perspective, or shots where the monster is obscured and happens to leap into frame to cause a scare.
However, these quite specific pragmatic and stylistic reasons for limiting the exposure of your creature should not be mistaken for, or extrapolated into, a broader model of screen suspense. There are all sorts of people and creatures and we see in movies that we are scared of, and they aren't all lurking outside of, or at the edges of, the frame. Indeed, at some point, an off-screen menace will surely become an intangible menace, and there will be no substitute for your monster appearing on-screen and chewing someone's head off.
That's putting it flippantly, but the point needs to be made. If the effects are good enough, there is absolutely no reason you can't show your creature if the context calls for it. Winston was one of those exceptional artists who demonstrated this, by giving top directors such as John McTiernan, James Cameron and Steven Spielberg creatures they could craft suspense sequences around, and feature squarely on-screen when necessary. Proponents of the "hidden = scary" model decry such front-and-centre effects as lacking in in imagination and technique, but this is over-simplistic. A really good director will use all sorts of methods to induce suspense, and being able to show the monster just increases the directors options.
Look through Winston's filmography and you'll see many particularly remarkable creature effects. Some highpoints: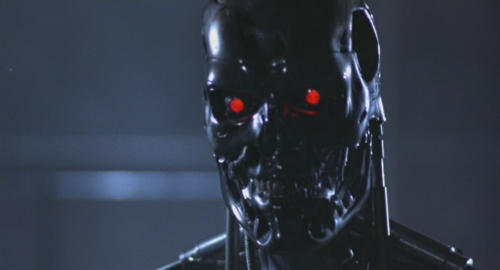 The Terminator (1984)
Winston provided the physical terminator puppet / robot, alternated with a stop-motion version in the climactic scenes. This was the film that brought him to wide attention, and marked the start of his extended collaboration with James Cameron. While far from his most "flawless" work, it's impressive for what he did on a low budget (he would get to revisit and perfect it for Terminator 2: Judgement Day.)
Predator (1987)
Winston did the very impressive alien creature at the end of this movie: if we don't count the varied creatures of the Alien series (see below) this might be the most effective "man in a suit with a mask" monster ever done.
Edward Scissorhands (1990)
An example of Winston's versatility: Winston led the combination of animatronics and make-up work to realise the title character.
Jurassic Park (1993)
Winston produced a lot of robotic dinosaurs for Jurassic Park, and, as already noted, its best sequences are a highpoint for on-screen realism and combination of robotics with CG. The T-Rex sequence is also notable for the particular challenge the sheer size of the creature created: the robotic Rex was mounted on a platform designed for commercial flight simulators.
A.I: Artificial Intelligence (2001)
That adorable yet kind-of-creepy teddy bear was Winston's. A good example of a special effects creature that is a character in the film, rather than simply a monster.
For me though the highpoint of Winston's career is undoubtedly: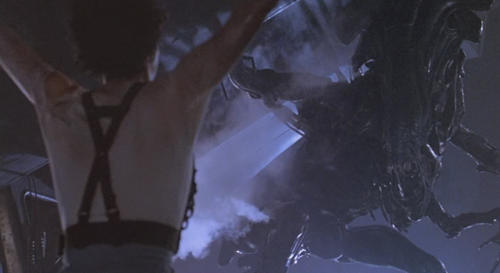 Aliens (1986)
This is really the pinnacle of an old way of doing monster movies. Winston built on the work of others (notably Carlo Rambaldi) from the first film, but he had to show much more: James Cameron featured hordes of aliens, doing lots of different things. These were achieved almost entirely with physical effects: there's little if any animation, and CG as we now know it wasn't around yet. What's more, he had to deliver a large alien queen that could remain convincing for a sustained fight at the film's climax. This is the kind of creature nobody would dream of doing without CG these days, but the sequence remains both absolutely gripping and completely plausible. In particular, note how fast the alien queen is: not an easy thing in physical effects when the creature is so large. But it greatly increases her menace.
(There are some nice tributes to Winston from colleagues, including James Cameron, over at Ain't It Cool, here).