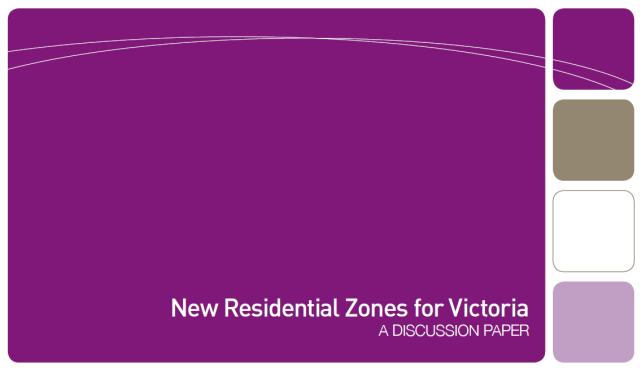 The consultation for the review of the new residential zones, announced back in July, is about half over. A great deal of mockery has been directed at the supporting information provided for us to consider: a ten page discussion paper and four double-sided fact sheets, available on the DPCD webpage. But what kind of strategic work underpinned previous reviews? Well, there are a few obvious comparisons.
The previous government started a review of just the residential zones, releasing a twenty page discussion paper in February 2008. You can read that at this link. The consultation draft of that review is here.
An Advisory Committee considered those changes and its very detailed report is here. That report has only recently been released, after my FOI request. That review was never completed and has essentially been rolled (with changes) into the current round of reforms.
Another review that isn't quite a zone review, but which is of some interest, is the Retail Policy Review. This didn't get past a discussion paper (here), and the material was all recently taken down off the DPCD website. It's of interest because its conclusions about industrial and commercial zones are somewhat different to those of the current review.
Other earlier reviews that are of interest in finding out how we got to where we are include the 2004 review of rural zones. The explanatory brochure for that review is here.
The original panel reports about the VPPs include a lot of information about the thinking behind the current zones. There's the Advisory Committee into the VPPs, from 1997, and the Final Report into New Format Planning Schemes, from 1999.
If you really want to go back, you can go back even further. Here's the mid 1990s, pre-VPP guide to the new residential zones, and here's the guide to the new business and industrial zones.
All of these documents are in my collection of Victorian planning history documents, which I have now given its own landing page: www.sterow.com/vicplanninghistory.