Skyfall (Sam Mendes, 2012)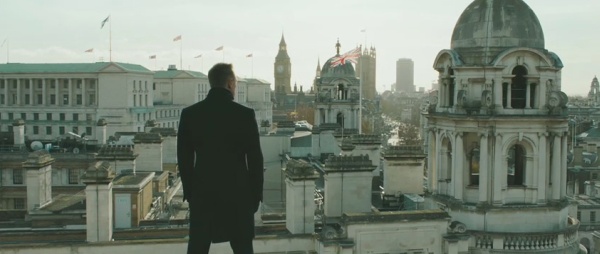 Sam Mendes' Skyfall is an unusual Bond outing. It follows closely on from its predecessors Casino Royale and Quantum of Solace, continuing their rebooted take on James Bond. Yet at the same time it reaches back to before the reboot, reinstating many elements of the older series. And even as it attempts to knit together the old and new Bond, in key ways it is unlike any of the previous entries.
What is most striking about the film, and which places it apart from even the other reboot-era films, is the extent to which it isnot content to be just a Bond film. The Bond producers have, in recent years, seemingly discovered that hiring high quality talent actually leads to better movies, and this time that means director Sam Mendes gets a try. Established talents like Mendes bring new approaches, and at times in Skyfall italmost seems like he is trying to invent a new category of art-Bond movie.
That starts with the visuals. Mendes has brought cinematographer Roger Deakins on board, and between them the pair have produced what is undoubtedly the most visually lavish and strikingly shot of all the Bonds. This doesn't just mean prettier travelogue shots. Mendes brings an adventurous eye to the way the action is staged: a fight in a Shanghai skyscraper is bathed in electric blue light, and another shootout is staged in challengingly dark Scottish countryside. There is a willingness in such sequences to test the limits of how action sequences should be done that, aside from a few moments in Quantum of Solace, hasn't been seen in the Bond series since the 1960s.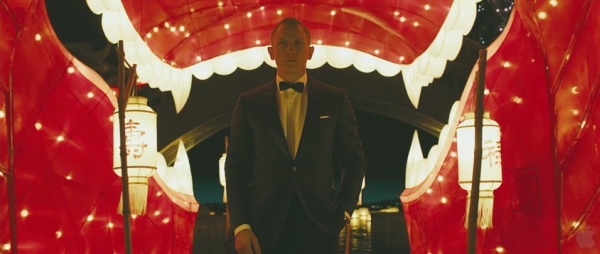 Mendes' determination to push the film in a different direction isn't an unqualified positive, however. It occasionally feels as if Mendes feels like truly rousing action is beneath him: after an impressive start, Skyfall is surprisingly light on big thrills, and Daniel Craig's Bond suffers as a result. The story gives him a fall-and-rise arc (there's even an explicit motif of resurrection) that plays on the idea that he has lost what it takes to be a Double-0. Yet it never gives Bond the really satisfying hero moment in the final reel that would truly pay off his return to form. (It doesn't help that the otherwise excellent score by Thomas Newman doesn't quite nail the action beats: the series' regular composer, David Arnold, has more of a knack for picking the peaks and troughs of an action sequence to make the big moments play). Javier Bardem, as the villain Silva, is a creepy presence that recalls Heath Ledger's Joker from The Dark Knight, but his larger-than-life persona hides the fact that his quest, and its denouement, centres on personal goals and unfolds on a surprisingly intimate scale. Many who come into the film wanting the action of Casino Royale will probably leave feeling a little short-changed. This isn't a classic Bond action epic, and there is a sense in which that's disappointing. At the same time, though, I can't help but feel it's okay. If the twenty-third film in a fifty-year-old franchise can't branch out and do something a bit different, then when is it alright for a film series to try new things?
What Skyfall delivers in place of the usual action focus is a serious filmmaker's attention to plot and character. To see the difference between Skyfall and most of its predecessors you only have to cast your mind back to the Brosnan-era The World is Not Enough, which was the first Bond film scripted by Skyfall co-screenwriters Neil Purvis and Robert Wade. The films share many story beats: Bond being injured and having to prove his fitness; a bomb attack on MI6 headquarters resulting in the organisation's relocation to emergency accommodation; a villain who has been seriously maimed directly as a result of M's actions; and a climax that sees M herself threatened and taking a much larger than usual role in the action. Yet every one of these shared story ideas is done far better here. Ideas that were fudged or wasted earlier are here treated with seriousness, and characters' actions have real consequences.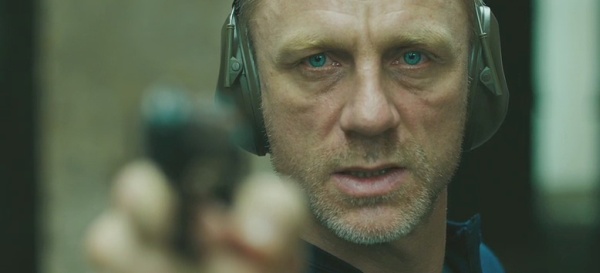 What's especially interesting is that even as they branch out, Mendes and his screenwriters (Purvis, Wade, and John Logan) are also building a bridge back to the series status quo that Casino Royale had so deliberately rejected. After the two film Bond-starts-as-an-agent-and-is-betrayed-by-the-tragic-love-of-his-life arc that re-established the series, Skyfall puts many of the missing traditions back in place. While I have slight misgivings about where this could lead, in Skyfall it is generally smartly done. Q branch, for example, is brought back, and there are nods to the gadget-driven excesses of past outings. Yet the producers have rightly acknowledged that old men tinkering in garages is not really the model the branch would take in the 21st century, and recast Q as a young and savvy computer engineer. (Not so good is one sequence containing one of the sillier on-screen attempts to visualise computer hacking). The filmmakers are also smart enough to realise that in a post-iPhone age, there isn't really a technical wonder that Bond can pull from his pocket that will impress us: a repeated joke is that his key piece of equipment is simply a radio. (It's roughly a reversal of the "radioactive lint" joke from On Her Majesty's Secret Service, which pushed the development of Bond's gadgets to the opposite extreme).
By the end of the film, Bond is ready to move forward into a new era that might look more like the Bond films of old, while hopefully maintaining the higher base quality seen thus far in the reboot era.  And Skyfall hints at both the promise and hazards of that enterprise. The tantalising promise is of better films in the mother of all action franchises: the Bond films basically invented the modern action film, so it's nice to see the series adding to that legacy rather than coasting on remembered glory. It is tough, however, to get the tone of Bond in balance. Ever since Dr No, the series has been at its best when it can evoke the tough edge of Fleming's writing, and that's the "realistic" Bond that has been recaptured in the Craig era. Yet Bond, even in the novels, has always existed at a strange nexus between fantasy and reality, with its grittier elements married to a world of exotic casinos and grotesque villains. So while reality is important, if it becomes too realistic it becomes something else (the Dalton-era Licence to Kill is probably the clearest example).
Skyfall manages that balance, but it's playing a tricky game. It is worth noting that for all my talk of realism and seriousness of purpose, the film also features giant killer Komodo dragons and a threat to eject a 77 year old woman out of a car in an ejector seat. It's also toying with traditional notions of continuity, since that ejector seat is in an Aston Martin that seems to be the one Bond was given in Goldfinger, ratherthan the one he won in Casino Royale. Talking about this point, Andrew Ellard has pointed out that one way to reconcile the gap between the new-agent Bond of Casino Royale and Quantum of Solace and the veteran of this film is to assume that he undertook all the previously filmed missions between Quantum of Solace and Skyfall. It's a small thing, but it says everything about the way the rebooted series has carefully tried to have it both ways. Craig is somehow all of the previous Bonds and none of them; all the baggage has been cleared away, and yet most of those pieces are now back in place.
Which means, equally, that it could go either very well or very badly from here.