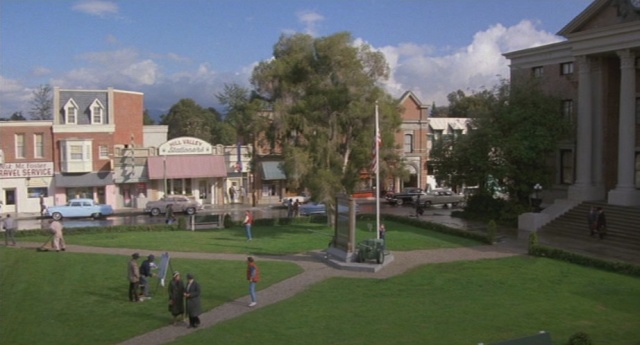 I am speaking tonight at a PIA pre-congress event, and this post should appear by the magic of WordPress as I'm speaking. I thought it may be worth providing links to a few of the pieces of writing that explore things I touch on in my presentation.
The Classic Hollywood Town
Here's my essay going through some of the characteristics that make the Hollywood Town so alluring: The Classic Hollywood Town at the Dawn of Suburbia
Backlots
Some material on the Universal Courthouse Square set: A Pictorial History of Hill Valley.
And a corresponding piece on Colonial Street: And to Think That I Saw it on Colonial Street.
Disney
My pair of essays looking at the design of Disneyland and EPCOT, respectively:
A photographic look at Disneyland, sans people: Deserted Disneyland.
Seaside and New Urbanism
My look at the design of Seaside, the archetypal New Urbanist town: Seeing Seaside.
Place in Movies
A tangentially related piece about the power of "place" and "location" in films: Location, Location, Location.
Another article on place in film, this time about finding the places where movies were shot using Google Earth: Stalking the Movies.
And getting even more tangential, a couple of pieces looking at how films preserve a record of Melbourne's urban fabric:
That should be enough to go on with! For those who came to the talk, I hope you enjoyed it.