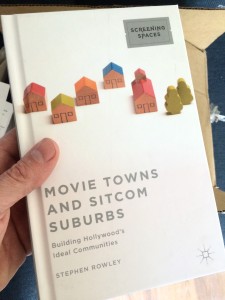 In an exciting moment my book has been properly published – the photo at right is the unboxing of my author copies. I'm very happy with the final result; now comes the challenge of getting so e people to read it!
The publisher's page is here and includes links to various e-book options as well as the hard copy. The Amazon page is here and they have a kindle edition. I can confirm that the pictures come up really well on the kindle. It is in the Google Play store here.
The following is a very kind endorsement from Jim Collins, Prfoessor of Film and television at the of the University of Notre Dame:
Movie Towns and Sitcom Suburbs should be required reading for anyone who wants to explore the relationship between visual culture and urban theory in a rigorous manner. Rowley's analysis of Disney's envisioning of the ideal community – from animated entertainment to theme parks to planned communities – is distinguished by meticulous close readings and his theoretical sophistication. He moves so deftly across media because he constructs such elegant paradigms for comparative analysis. This is simply a benchmark work.
There is a more detailed page about the book, including a chapter-by-chapter outline, at www.sterow.com/movietowns.