My contribution to the Friz Freleng blog-a-thon organised by Brian of Hell on Frisco Bay.
Let's deal with the hard part up front and get it of the way. Friz Freleng will always suffer by comparison with his more prodigiously gifted colleagues: Tex Avery, Bob Clampett, and Chuck Jones. I'm not going to shy away from the fact that he wasn't as good as those three illustrious directors. But that's okay. Avery, Clampett and Jones are pretty far clear of the pack when it comes to the great Hollywood cartoon directors. Noting that Freleng wasn't their equal doesn't get you anywhere: it's just what happens when you make comparisons to the incomparable. Freleng deserves to be acknowledged for what he did, not downplayed because of the exceptional company he kept.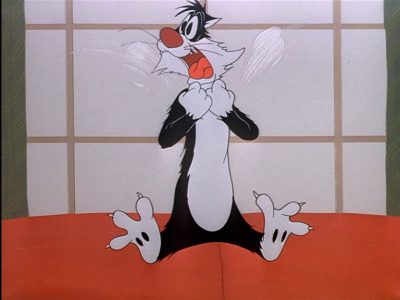 That's particularly the case if we argue, as I think we can, that the others probably needed someone like Friz around. After all, it's hard to believe that Freleng's proximity to so much greatness was purely coincidental. I'm not suggesting he was a hidden hand behind the others – the films show that he was a follower, not a leader, of the more pioneering directors that he worked with – but certainly he was the backbone of the Warners studio, the one constant through its entire golden era. He was there as lead artist for the inaugural Warner directors, Hugh Harman and Rudolf Ising, when the first Looney Tune was released in 1930; and he was there as head of DePatie-Freleng studio that produced some of the studio's last cartoons. In between that inauspicious beginning and rather sad finish, Friz plugged away for three decades, directing more Looney Tunes and Merrie Melodies than any other director, by a comfortable margin. As Steve Schneider put it in his book That's All Folks, if anyone was Warner Bros cartoons, it was Freleng. He was the linchpin of the studio, giving it a much-needed stability, and it is hard to believe that such able support didn't help to foster the achievements of his even more talented colleagues.
Freleng's longevity means that filmography is a cross-section of the wider Warners canon. When the studio's films were twee faux-Disney musicals, so were his; likewise, when they had descended into largely unredeemed formula outings, his had too. Yet in between those periods, when the studio was at the top of its game, Freleng's work lifted with it. Freleng never had a period of consistent brilliance in the way that Clampett did from about 1942 to 1946, or as Jones did from about 1948 to 1954. Instead, Freleng peppered his best cartoons throughout his career. And while there is perhaps not a single cartoon on Freleng's resume that matches, say, The Great Piggy Bank Robbery or Rabbit of Seville, there is still an embarrassment of riches.
I would say the first really great Freleng cartoon would be his wonderful musical take on a construction site from 1941, Rhapsody in Rivets, and the second is another musical cartoon, Pigs in a Polka, from 1943. Also that year is the enchanting yet very funny Jack Wabbit and the Beanstalk, while 1944 saw another fairy-tale effort with Little Red Riding Rabbit. Several more of the most fondly remembered Bugs Bunny cartoons followed in 1946: Baseball Bugs, Racketeer Rabbit, and Rhapsody Rabbit. 1948 sees Bugs Bunny Rides Again, while in 1949 we have the deceptively simple High Diving Hare and the exuberantly brutal Mouse Mazurka. Golden Yeggs, from 1950, sees the early 1950s Daffy at his most appealing. In 1951 he produced one of the classic Sylvester shorts with Canned Feud, as well as one of the slyest Bugs / Yosemite pictures, the election themed Ballot Box Bunny. In 1952 there's the hugely under-recognised Cracked Quack, in which Daffy hides out in Porky's house to escape the winter migration. And while the creeping decline that set in to all the Warner directors' work in the mid 1950s dragged Freleng down particularly badly in this period, he managed to produce perhaps his single most enjoyable film in 1957 with The Three Little Bops.
This very limited selection of Freleng's best work highlight one of the most noted of his strengths as a director: his knack for musical cartoons. The precise timing allowed in animation allows for particularly satisfying melding of image and music, a fact that the Disney studio exploited for aesthetic effect in the Silly Symphonies and ultimately in the grand showpiece Fantasia. But it was in the Warners cartoons that the strength of music in selling cartoon gags really came to the fore, and Freleng was especially adept at harnessing this effect. One of the earliest critical appreciations of the Warner cartoons was James Agee's 1946 piece on Rhapsody Rabbit, in which he praised the way it used "brutality keyed into the spirit of the music to reach greater subtlety than I have ever seen brutality reach before." Which seems to be Agee's way of noting the extra "punch" that the gags get from the pairing with the music in a film like this. Yet it goes beyond that. If I can read my own views into Agee's a little further, I'd argue that the subtlety Agee talks of comes from the way Freleng uses the high spirits of the music to inform the character of Bugs Bunny. One of the classic Bugs Bunny moments is his jubilant, on-all fours bounce down his piano's keyboard in this film, orchestrated to the climax of Liszt's second Hungarian Rhapsody. It is the fusion of the music's exuberance with Bug's own temperament that takes the unpleasant edge off what is, otherwise, a fairly villainous Bugs in this cartoon.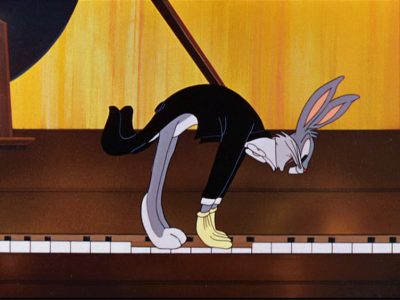 Freleng's musical sense is not limited to his overtly musical cartoons, though. His strongest trait as a director is his instinct for timing, which is fundamentally musical in nature, even when the overt synchronisation with a musical piece isn't present, or at least not as obvious. One reason I think it is easy to underestimate Freleng's strength as a director is that we tend to focus on the purely visual aspect of a director's style, and Freleng's composition and shot design were always the most pedestrian of the major Warner directors. Yet the timing, rhythm and editing of his cartoons – aspects that animation directors have much more control over than their live-action counterparts – is impeccable. Freleng's cartoons often feature gags that are only jokes because of the timing. In High Diving Hare, for example, one sequence underscores Bugs' complete control over Yosemite Sam by stripping the actual jokes out and simply showing Sam climb the high diving platform and fall repeatedly: the escalating pace of Sam's ascents and falls creates the gag out of nothing. Similarly, one of Freleng's favourite gags (turning up in Ballot Box Bunny and Show Biz Bugs, amongst others) involves a booby-trapped piano set to explode on a certain note of "Those Endearing Young Charms." The joke here works so well because of the repetition of the "off" note that repeatedly causes the trap to fail. Because the musical sequence cues us to want to hear that final note played, the urge of the perpetrating character to intervene and play it properly is psychologically much more effective.
One difficulty with trying to note the great Freleng cartoons is the number he made that are relatively undistinguished overall, but which have individual sequences of great inspiration. Most of his Tweety and Sylvester cartoons fall into this category, being generally pedestrian but lifted by Freleng's handling of Sylvester. While Freleng's conception of Tweety turned the character into a pale, unsatisfying imitation of Bob Clampett's original, his Sylvester is constantly a joy to watch. I note that some, like John Kricfalusi (here), have taken to deriding Freleng's Sylvester, preferring the occasional use of the character in Clampett or Jones' cartoons, or even Robert McKimson's lacklustre efforts. Yet I can't think of a character in the Warner cartoons as consistently empathetic as Freleng's Sylvester. Freleng's poses for the character might be much less self-consciously funny, but his Sylvester benefited from not being over-designed, feeling real and likable in a way that the other directors' Sylvesters didn't. (One of my all-time favourite pieces of animation is Sylvester prancing along the top of a fence, singing his theme song "Miaow," at the start of the otherwise undistinguished Tweety's Circus. It is a moment that shows Sylvester at his most irresistibly free-spirited and cat-like, perfectly illustrating Freleng's affinity for the character.)
Similarly, I'd argue that Freleng's take on Bugs Bunny was particularly vital in that character's development. In the early 1940s, as all the Warner directors jumped on the Bugs Bunny bandwagon and tried to flesh out the basic template laid by Tex Avery's A Wild Hare, it was not the bigger names at the studio that immediately saw the direction to take the character. Avery always struggled with creating likable lead characters, and it showed in his few shorts with Bugs before he left the studio. Similarly, Clampett's Bugs was, for the most part, too brash (his Bugs Bunny cartoons have always struck me as amongst the weakest of his 1940s films). Jones was moving in the right direction with some of his early Bugs shorts, but was still maturing as a director and would do his best work with the character later in the decade. Freleng, however, by about 1943 to 1944 had absolutely nailed Bugs. Freleng's Bugs has an innocent, childlike quality that makes the character much more engaging. It was a more moderate version of the infantilism Freleng brought to Tweety, and while it basically ruined the latter character, it was vital to the formation of Bugs as an appealing, fully-rounded character. The classic Bugs of Jones' shorts of the late 1940s and early 1950s is unimaginable without the influence of Freleng's Bugs of the mid 1940s. And to the extent that Jones started to lose a handle on the character later in the 1950s, it is largely because he started to conceive the character as an adult sophisticate: in other words, shifting the character away from the qualities Freleng's Bugs had epitomised.
The down-to-earth nature of Freleng's Bugs is reflected in the distinct lack of pretension of Freleng's work more generally, and this is key to both the weaknesses and appeals of his cartoons. Compared to the lofty ambitions and obvious striving for greatness of Clampet and Jones' best cartoons, Freleng's can look a little pallid. I'm sure Freleng took great pride in his work, but you also sense that at the time, he probably didn't see his cartoons as significant artistic achievements in the way that Jones or Clampett seemed to. But if this meant his shorts didn't have quite the high aspirations of his colleagues' films, it also helped give his best films an easy charm that their work sometimes lacked. For example, in the late 1950s Jones produced two of his best known musical cartoons: the uber-cartoon What's Opera Doc? and the simpler Baton Bunny, something of a riff on the basic template of Rhapsody Rabbit (as well as Jones' earlier Long-Haired Hare). Both are fine cartoons, but for sheer enjoyment, neither can really compete with Freleng's much more effortless, jazzy The Three Little Bops. Where in What's Opera Doc? Jones is at his most ambitious, and straining against his budget to produce something really spectacular, Freleng's picture shows him accepting the budgetary constraints that closed in on the studio in its later years, and just having fun.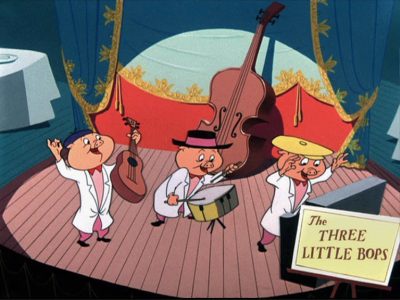 It is perhaps the archetypal Freleng picture: unapologetically gag-based, impeccably timed, swept along by its music, and with an irresistible joie de vivre. While I'm all for taking cartoons seriously and appreciating their artistry, The Three Little Bops is about as straightforwardly enjoyable a cartoon as has ever been made. Freleng's best work is amongst the most fun of the Warner canon to watch, and I think that is his great achievement.
Related Items
For my previous essay on Bob Clampett, click here.